10/2/2015
"Why are we doing this again?" Thomas asks as we tuck under the overhang to escape the rain. I can barely hear him through my mental fog. It has been a long day of grant applications, job searches, and anxiety attacks over the sight of my online bank account. My eyes are bleary from all that screen time, and what I really want to do is crawl into bed with a book. Instead, I slowly take off my wool sweater and socks, and change into a damp bathing suit, shaking in the wind.
Every afternoon, rain or shine, we come to Black Rock to walk or jump from 60 degree air into 50 degree water. hen we arrive we ask someone how the water is, and every time we are told "It's lovely" by whomever we happen to ask. The blissful lie, Thomas calls it.

t is days like today I wish people would say what they mean: "I can't feel my toes. It's f--- cold. Don't go in there." But the word "cold " is not allowed at Black Rock. "Fresh" and "challenging," yes, but never "cold." Over time I have grown grateful for the positive energy. It warms me as I walk to the black mass, and calms me when my body rejects the first chilly steps or shock of the leap-in at high tide. And the truth is, it is lovely, even when it isn't. The frustrations of the day will soon wash away, and all we will think about is how alive we feel.
We came out of curiosity at first. It seemed like a fun thing to do, scream like kids while we leapt into the clear waves and franticly paddled around trying to catch our breath. But after a few days, we fell into the same practice as the rest of the Black Rock swimmers. Quietly walk toward the water, breath slowly, go in at your own pace, and start swimming immediately. Take a minute or two before speaking. For two glorious, torturous moments allow the water to be the only thing in the world.
We are certainly not alone in our ritual. Hundreds of people swim throughout the summer at Black Rock, and about one hundred of the strongest-willed swim 365 days a year. They are the warriors of Galway, in my estimation, and most of them are over sixty-five.
When the late afternoon 365-ers saw that we were coming every day, that we were dedicated to the practice, they embraced us as if we'd been coming for years. And after aching for friends and family for weeks, their warm welcome is as refreshing to me as the cold of the water.

There's PJ who swears like a sailor, wearing matching scuba socks and gloves (but no wet suit), his belly protruding over his "togs." The first day I met PJ, a couple was having their wedding photos taken out on the pier. Everyone else stepped back to give them space, but PJ strode up to them to shake hands (rubber gloves and all), one of the other swimmers shouting "You photo bomb them PJ!" from the rear. Then he plopped into the water and is, I am sure, paddling in the background of many of the pictures. May they remember him always.
There's Damien who stands six feet tall, limbs like string beans and kind eyes. Damien who swims every day of the year though he does not feel confident in his stroke, who explained to me that a "tea bagging" is when you dip yourself in the water then pop out again because it's too cold, who spends fifteen minutes drying himself (buffing might be more appropriate) while he chats everyone up, who greats us each day with a bright-eyed "Hello Thomas-Kate!" Damien who does not think I see him bless himself with the sign of the cross before pushing off the ladder into the water.
There's Jane who has been coming to Black Rock since she was seven and knows everyone. Everyone. Bubbly with excitement at the two Americans who want to be part of the "Black Rock Clinic," she introduces us to anyone who will listen and insists on taking our picture with the others. "Anyone who lasts over eight days deserves to have their picture taken, and you've lasted weeks!" If I accomplish little beyond hanging in Jane's Black Rock Hall of Fame, I will be content.
There's Josh who is a bit younger than the rest. Maybe 45. He swims a good distance every day and then smokes for an hour after, joking with everyone who comes in and out. He is almost always there when we arrive and when we leave. A wealth of knowledge on the bay, the swim races and the people who come to dip, Josh offers tips on how to maintain the feeling in your toes after a "challenging dip." He is the next generation 365-er, learning from and caring for the ones who may not always be there at 3:30 to join him.

And there is Martin. I do not know how old Martin is, and I will never ask. I wonder that a man with the body of fifty, the face of sixty-five, and the soul of one hundred should be any one age. Martin is the undeniable bad-ass of the group. While most of the regulars are in for 10-25 minutes, Martin swims for fifty minutes a day and then stands on the rocks, sipping coffee, stoically watching over the rest of the swimmers. He teases Thomas one minute, calling "It's not getting any warmer!" if he sees any pre-plunge hesitation and offers him a swim cap the next. He puts his icy hand on my back in greeting, chuckling as I yelp and then encourages me to jump off the top and watches over my camera while I swim. Martin reminds me of the grandfather I lost this year with his gruff exterior and patient heart. He is, in many respects, a stranger, but he is as familiar to me as the water itself. His goodbye will be the hardest when we leave.
Early on, I asked each of the dedicated few why they came to swim every day. Answers ranged from "Because it's feckin' therapy sure!" to "It lets you know you're alive," to Damien's somber, "Because we're not well, Kate" before chuckling and wading into to the sea. Truthfully, I think they come for each other. The camaraderie at Black Rock is a comfort and a thrill. It keeps you young in a way that a daily dip alone could not. And they are the most youthful people I know.
Love.
9/10/2015
Tuesday morning. 10 am. The cars roll across the gravel. Trunks pop, hands grab cases by the handle, and it's up the steps to "Mornin'! How you been keepin'?" An organized kitchen grows cluttered as chairs are paraded in through the doors, and a circle is formed.

Two fiddles, one mandolin, three accordions (one French, two Irish), one guitar, one bouzouki, one banjo, one flute, a tine whistle. This is a crowded week. "You'll need an extension soon," jokes Brendan. Sean laughs as he takes his place by the window. "Right then," he says.

And they're off.
The Wedding Reel, The Road to Errogie, John Ryan's Polka…

The music does not stop until 11am when the tea is poured, the scones are buttered, and cookies produced from bags around the room. For fifteen minutes, the instruments are put aside and the room bursts into conversation about travel, playing, the friends who have come through the Tuesday circle and left for other cities, other countries.

And then, just as swiftly as the music stopped, it begins again. One member of the group takes up their bow, and the rest fall into place. Another hour of teaching through doing commences.
There is no "right time" to learn to play in Galway. Few people understand this more than Sean Flanagan. He picked up his first instrument at forty, and now he plays four, he is a celebrated leader at sessions around town, and his kitchen has become a gathering place for new musicians of all ages.
At today's session, the youngest player is 25, the oldest 85. The individual players are ever changing, but the spirit of community remains week to week.
Some call Galway "the graveyard of ambition." The artists here have no desire to leave, to fight for a career, for fame. Maybe. Or maybe the people of this city stay, because together they can create something more powerful, more beautiful, more transcendent than they could alone.
Seven nights a week, musicians gather in their favorite pubs to play, for a crowd or no one. It is not about an audience here. They form a circle and play for each other, for a higher cause maybe. Sessions are the blood that pumps the heart of Galway. It is no lack of ambition that holds artists here. It is the joy of playing the drives them, and the warmth of the circle that makes them stay.
 
Love.
9/4/2015
There is a picture of my great-great-grandfather's house that sit's in my parents' sun parlor. It is a typical Irish stone house in decay, the roof long ago removed, and the picture itself is nothing out of the ordinary, a snapshot. But this worn image of a run-down home is the portrait of my family history.
There are different theories on where the name Ryan stems from, and what the original longer names mean. "Ryan," roughly translates to "worshipers of the sea." When we read this at the Cliffs of Moher Visitors Center, I cried and Thomas nodded knowingly as if to say, "Well, they have you guys pegged."
This week, we traveled to Lahinch, the home of the Ryans who came before. Walking through the seaside town to the beach, strolling down the boardwalk, and clambering over the rocks to get a good view of the surfers (Lahinch is known as "Surf City"), a new current of energy coursed through me. It makes sense somehow, in my head and my heart, that we come from this place. I look around and see people I know and the sand on this beach may as well be the grains of East Matunuck.
My distant cousins, Michael and Theresa Ryan, still live on the family land, and we arranged to meet them Sunday morning. I thought we would make a short visit to the homestead, meet them, walk the land a bit, and get out of their hair. I did not want to intrude.

I should have known better.
Theresa and Michael welcomed us into their home to meet their brother and sister, their three children, and the dog. We spent the afternoon around the kitchen table swimming in tea, crawling through scones and sandwiches, and determining after an hour break that it was time for tea again.
Thomas sometimes marvels at the speed with which my family speaks to each other and the way multiple conversations can happen at once, but everything is heard. It must be in our blood. Those hours were filled with stories and debates, teasing and laughing, with the ease that comes in a family that genuinely enjoys one another. I felt more at home than I have in a over a month.
Michael pulled me outside for a quiet moment to show me the farm and the spot where that humble stone house once stood. He showed me the path my great great grandfather would have walked to leave his land for the last time. We talked about American Wakes, parties that were thrown for those emigrating as a final farewell, because most people were never coming back. What must go through your head at eighteen, nineteen, twenty, to leave the only place you have ever known for a place you have never been, with just enough for the boat ride there? How brave they had to be. How open to the world and all its possibilities.
 
know that I am privileged to walk the land of my ancestors. Too many Americans were stripped of that knowledge that is so integral to identity, and I do not take a second of this for granted. I cannot. Now that I have been here, I owe it to the next generation of our family to bring them home. I owe it to myself to remain close to these people who have welcomed me in. I am more complete because of my time with them.
This week brought a welcome break to the "pack the bag—unpack the bag—clear the tent of slugs—do we have any food left?" part of the adventure. Thomas' parents, John and Kathleen, flew to Shannon for a week of "get in the car—get out of the car—don't get too close to the edge—do you serve Beamish here?" sight-seeing.
We planned to meet them at the airport, so one misty morning Thomas and I packed our bags and prepared to leave our beloved Dingle Peninsula.
We were packed and out the door bright and early. We were excited for the day's exercise, the thought of a new city and familiar faces from home. We were--

THWAP!!!

Stars. Tiny little magical stars. That is what one sees when, distracted by the possibilities of the day, one does not pay attention to how securely one is strapping and clipping bags to her bikes and a bunji chord releases from it's full extension, unravels around its captive bag, and strikes one in the temple. As Taylor says, "Shake it off...idiot." You'll note that Thomas has received no injury on this trip. Had I any shame (thanks to years of gawky adolescence and the various degrading service jobs that come with a life in the arts, I have none), I might be embarrassed to travel with such a graceful swan.
Thomas lead us through the Conner Pass that morning, the highest in Ireland. The climb was a long one, though not as steep as Sally Gap, our first day of mountains. And the visual payoff was worth the huffing and puffing. As we came down the other side of the mountain, the thick mist and dark clouds opened to reveal a sunny beach that appeared to have split off of San Diego and floated its way here (don't think to hard about the geographic impossibility).

#wishitookapicture #lazy
(I have never fully understood the hashtag thing #kidsthesedays)

We stayed at The Castle Hostel in Tralee that evening. A sad place. A dark place. A place where we microwaved a two euro frozen pizza. But a place I will look back at and smile. All because of oversized balls.

Wait for it.

The fair was in town. The fair always seems to be in town in Ireland in August. The rides were old and rickety, covered in cartoon characters that are not normally seen together (Bart Simpson and Mickey, Pooh Bear and Dora the Explorer) and cool guys in cars and pouty "chicks" in bikinis (whose relationship to race cars I will never understand). In the rear stood a pool of water with three clear inflatable balls, seven feet in diameter, and within those balls...children. The next time you get to a fair, walk pass the bumper cars, the cotton candy, the puking middle-aged man next to The Scrambler, and find the kids in the balls. You will never laugh as hard. We must have watched for thirty minutes as these seven-year-olds were zipped into floating balloons and, like hamsters, ran and tried to get somewhere. They ran, they fell, the jumped, they fell, they rolled, they fell. And they did it all with smiles and real hope that this time…this time they would stay vertical…and then they fell again.

The next morning we bussed to Shannon to meet the Rowells, and the Tour de Clare began.
We rented a house in Quilty, a residential coastal town of tiny homes built in the 1920s. Mrs. Tulty, the owner, grew up in this house. Before the modest kitchen and cramped bathroom were added on, the house had one main room, two tiny bedrooms, and a "loft" (more of a hole in the wall with room for one bed). This quaint beach home with its pink wallpaper and various images of Jesus and signs reading "Happy House" was once home to eight people. This was not an easy place to live, but I believe it has always been a happy house. With sunsets like this, it is not hard to feel hopeful for the future.
 
We drove quite a bit the first two days, stopping at every pull-off on the road for Kathleen and Katie to take pictures while Thomas and John surveyed the area, standing legs spread, hands in pockets. Apple falls but an inch from the tree.
A note about Irish castles, because we stopped at many: The staircases are always built in clockwise fashion so that the person running up them does not have the full range to swing his sword, and is likely to strike the side of the stairs. The guard running down the stairs has full range of motion, and therefore the advantage. How many times did they build stairs the other way before they figured that out? Trial by fatal error.
In nine days we covered Killarney, The ring of Kerry, Dingle, Bunratty Castle, The Cliffs of Moher, Cahersiveen, Kilkee, Ennis, Lisdoonvarna….um…

For the first time, Ireland grows blurry. When you bike, you see one town a day and a lot of fields. Points of civilization are clear in your mind. You stay in a place a few days, get to know it. Even become bored with it (well not really). When you drive you cover a lot more ground, each day is packed with adventure, and it can be challenging to keep track of all you have seen. Both have their advantages and disadvantages.
What remains clear of this week is the constant joking, the games of Story Cubes and Dutch Blitz , the rolls of cookies and innumerable bathroom stops. What remains clear is the generosity of the Rowells, the way Kathleen is blown away by every flower she sees, that John touches every castle wall as if to communicate through time with its builders. What remains clear is that these people are full of love and light, and I am lucky to know them.

Love.
"Peppermint and chocolate sorbet" she said, shivering with excitement and the cold. She knew she did not need the ice cream, not on this chilly seaside night, not on her budget, and certainly not after a grown man's heaping of haddock and chips, but she could not help herself. She was in Dingle after all, home of Murphy's Ice Cream.

Full disclosure, I just started reading the angst-filled page-turner Rebecca. If my writing becomes wistful, even scandalous, blame it on Daphne du Maurier.
 
So we are in Dingle, but how did we come to be?

After a morning hot chocolate with Eric and Catherine, we made our way to Kilkenny, Ireland's "Tidiest Town of 2015." The ride was relatively easy, so we took our time. Despite a late arrival, we managed to find ourselves some bunks in an eclectic hostel as well as a bit of Indian food. If you have not tried curry chips, it is best to keep it that way. Avoid the years of addiction ahead. I am already a goner. Remember me well.

We visited Kilkenny Castle….
...the round tower at St. Canice's Cathedral (the first and last time Katie wore a skirt and those climbing the rungs below had to see her in all her glory)…
…and saw a movie (a strange and shameful pastime when traveling to a new city #noregrets). The film Song of the Sea is an animated movie by Cartoon Saloon (of The Book of Kells) and was created in Kilkenny. The animation was tremendous, simple hand-drawn images layered one on top of the other. The next friend who has a baby can expect stills for the nursery walls.
The highlight of Kilkenny was undoubtedly Bruce. He is Thomas' friend of five years. An Australian with Irish citizenship living in Germany, Bruce is a traveler, artist, storyteller, with more energy at forty-something than I had at ten. We filled three days with biking and picnicking in the park, sneaking into churches, pretending to buy a lot of green tchotchkes that said clever things like "My Kilkenny Drinking Cap," and cooking up ginger-filled dinners in the hostel kitchen. One night a French family of about 20 stayed there, filling the building with yelling and tears (there some whiny kids on that trip), making the kitchen nearly impossible to navigate. While Thomas and I searched for a space to cook or hide, Bruce's would yell, "We need more people! We need more people!" While everyone else labeled their food in the fridge with their names, Bruce wrote things like "Bruce's egss…ok?!!" and "magnanimously donated by Bruce." It is no wonder why Bruce and Thomas love each other. Those few days were some of the funniest we have had here, because we spent them acting like children.
I have been watching the actual children here, and find
a consistent theme of kindness and care among
siblings, cousins, and friends. Kids are good to each
other here. In a country that has seen so many trials, a
land that can be very hard to live on, people cling to
family here. Maybe that is part of why I feel so at home.
We cheated, ok? We cheated. We took a bus from Kilkenny to Kilarney, because we were itching for the west coast. You caught us.

Killarney is a delightfully jolly tourist trap, and I loved every second of it. We camped about 5k outside of the city for a few nights near the national park. I know you've been asking yourself, "When when when will she buy a sweater?" The answer, my friends, was our first night in that tiny town. I was cold for two weeks (when I was not stealing Thomas' sweater), and it was worth the wait. I scurried into each of the woolen mills and had to restrain myself from diving into the piles of hand-made knits. Thomas recently started playing the "new sweater" game on the street. You can always peg the tourists that way. What really gets us going is the double whammy-- when someone wears a new sweater and a new Irish cap on the same day.
 
We did not bike the entire Ring of Kerry, but instead ventured into the Gap of Dunlow. There is not much to say except that I felt smaller and more overwhelmed by what the earth is capable of than I have in a long time.
We biked to the Dingle Peninsula on Wednesday and camped on Inch Beach. Camping is technically not allowed, but when we saw the thirteen caravans and three tents set up for the night, we followed like lemmings. I think this is the best night of sleep I had, because nothing will rock you into a coma like the sound of the waves crashing and the grass blowing against your tent. We cooked breakfast on the sand and then biked along the coast to Dingle, home of Fungi the Dolphin.
We stayed with Helen our first night. She runs a mom and pop hostel and confused us greatly. She would fluctuate between friendly conversation and closing a door in your face mid-sentence or tell us to help ourselves to the crackers and then knock on the door saying, "Hurry up and tidy up. It's time to go." Sweet Helen.

We met a German couple at that hostel and went out until 2am with them at a bar with wonderful music. I had two pints. If 'twere possible, my tolerance has lowered. I was almost asleep at the table when we left. Yesterday we left our belongings at The Grapevine Hostel (filled with young hip travelers who sip cheap wine while they cook their lentils and joke about the "tourists") and we biked the Slea Head Way.
We rode about 40k, stopping every twenty minutes to explore a new beach or hill. This is the area where the film Ryan's Daughter was filmed, and the spot Steve Ryan has told me to visit for years. You win this round Dad. Definitely the most beautiful place I've been in years.
Today we hiked and bought a book of Irish fairy tales, Thomas ate an entire roll of Digestives, and we fell asleep on a cliff by the sea. Tonight we will venture back out for some music, but for now we will join the other travelers (don't even think about calling them tourists) with our lentils and curried chickpeas.

More adventures to come.

Love.
I am writing to you from a cozy hostel in Kilkenny where the tea is hot and the beds are...well, the tea is hot. This last week has been an overwhelming story of the kindness of strangers. We left the B&B in Moyne for Carlow, a mostly sunny, mostly downhill ride. We thought we'd camp there for a night and then head to Kilkenny the next day. How wrong we were.

Carlow is small but full of great food and shops and friendly people. We landed at Tully's Pub for lunch where there were relatively healthy sandwiches for four euro and pillows on the benches (two key selling points for this lady). We met Ed, the manager (it's his mother's bar) who has worked all over the world in sustainable coffee farming and, it turns out, lived one neighborhood over from me in DC while he worked for the UN. We later found out he holds the Guinness World Book record for "most toothpicks in beard." Needless to say, we fell hard for Ed. He invited us to camp on his farm a few miles out of town where we snoozed by the horses and took hot showers.

We spent a few hours with Ed and his girlfriend Mary, talking about the Irish language and the importance of young people coming back to this country to energize and contribute to its economy. Mary, a nurse told us about an older patient at the hospital who had a stroke. The doctors thought he'd lost his speech, and was only coming out with gibberish. It turns out, he was speaking Irish, and his language is just fine. So yes, learning irish has its value.
 
We planned to pop off to Kilkenny, but Ed directed us to Boris (a tiny town south of Carlow) to spend the day and then to Rathanna (a tinier town that doesn't show up on most maps east of Boris). There, he said, we would find the coolest bar in Ireland. So off we rode for afternoon tea in Boris and then to Rathanna.

I should mention at this point that I had my first fall that morning. The bike lane went from wide to narrow very quickly, and the back of Thomas' bike caught on the front of mine as we tried to line up. Bless us all, there was no car behind my as turtle-like, I wriggled on my back in the struggle to unclip my shoe under the weight of my bike. I'm fine, Kathy and Steve, but beat up my right leg a bit, so I was unsure about the ride to Rathanna. I considered letting Thomas go without me or convincing him to soak up the metropolis of Boris for the night. That would have been a colossal mistake. In another lesson of "say yes to life" or "YOLO" (are the kids still saying that?), I rode toward the coolest bar in Ireland.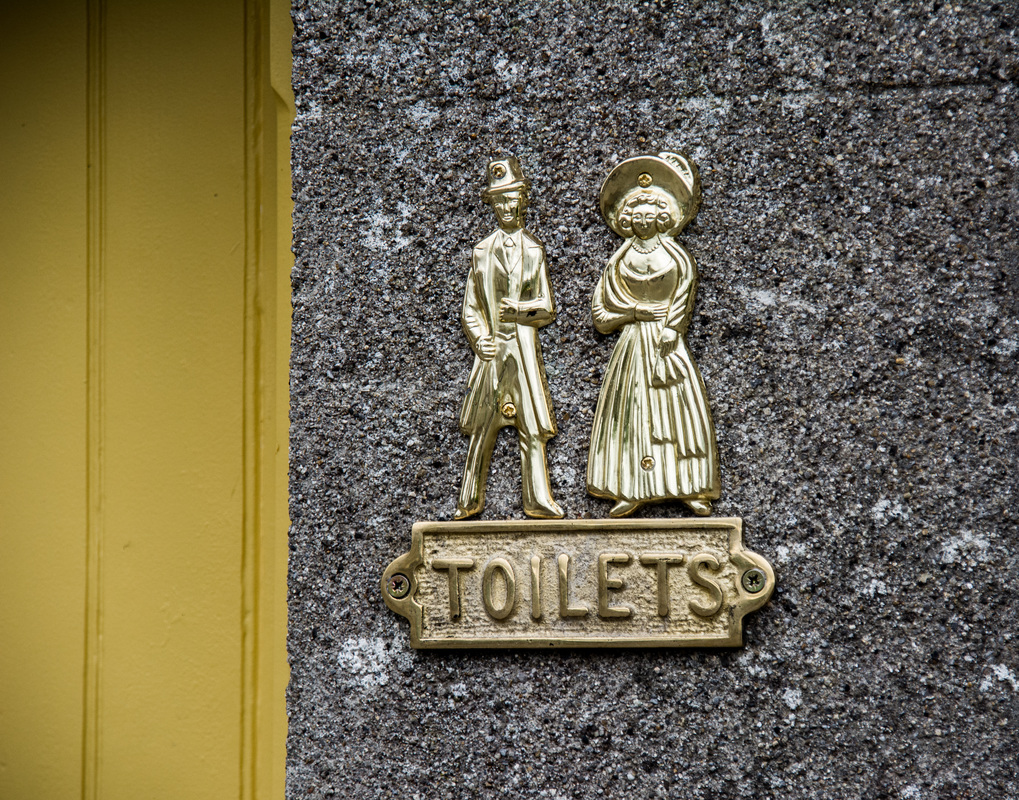 Osborne is one of two pubs in Rathanna. There is also a church with a beautiful cemetery, a community center, and cows. For groceries, head back to Boris. Ed's cousin Catherine is dating Eric who owns Osborne Pub. They showed us the field next to the bar to pitch our tent, we cooked up some dinner outside and then headed in...to the coolest pun in Ireland (I'm just going to keep saying it). Osborne is tiny, an old victorian building where a woman named Mary (Eric's great aunt) used to run the bar/candy shop/grocery. That's right, a tiny tiny bar with walls lined in booze, boots, tea selections, and candy jars. Eric has maintained the structure and style of the place while making it functional. They only reopened the doors a few months ago, and the community is coming out in droves to the place that was a childhood fixture for most of them.
Eric is one of the smartest, hardest working people I've met in a long time. He is an architect, worked in London for ten years, still spends about a third of the year working internationally, but is one of the brave young people who returned home to give back to their community. He knows how to run his farm and his bar, and has big plans for creating an artist cottage on his land.

We hit it off with Eric and Catherine immediately, and at the end of the night they invited us to stay in The Storehouse (a self-catering lodge next to the pub) the next night. The Storehouse is probably the nicest place we will stay in Ireland. Filled with natural light, a lovely wood stove, and a ginormous couch where I read two books. Two Katie? In one night? Oh no. No indeed. We arrived in Rathanna on Thursday and did not leave until yesterday. Because Eric and Catherine are amazing, because they had a wedding at the bar Saturday and a church function there Sunday and needed the help, because we shot video footage and pictures for their website, and mostly because they are amazing.
We spent the weekend working on the farm (well, Thomas did), shooting pictures of the grounds, the surrounding mountains, and the two massive functions at the bar, running a BBQ for a lot of hungry drunk people, and really getting to know locals like Manford (a German "false teeth artist") who came to Ireland and never left, and Amon a local farmer with filthy jokes who I could only understand 50% of the time (due to the accent or drink...it was hard to say). People are warm in Rathanna. They take time for each other. They love Eric for what he's done for the community, and they wanted us to stay longer. Don't worry, we'll be back. After an almost tearful goodbye yesterday afernoon (we should have left by 8, but Eric wanted to make us coffee and...well...we left at 12) we rode to Kilkenny.
This country is stunning and there is so much to see, but it is the people who will make this adventure memorable. Their generosity, their open natures, their dirty jokes. I am grateful for all of it.

Have a wonderful week.

ove.
July 29, 2015
Day seven in Ireland and day three of the bike tour. Dublin was amazing. We stayed with Servas Internations Host Claire the first two nights and Warm Showers Host Phillip the third and forth. Phillip is an urban planner and took us on a private architectural tour, and Claire brought us to her favorite pub to take in a session. Both warm, knowledgeable new friends with great advice about what to do and see.

City highlights included the music (of course), seeing Once at the Olympia Theater, and (my favorite) touring the Kilmainham Goal. Amazing time capsule of the shifting incarceration theories of humane rehabilitation and punishment. After the prison was shut down, a group of former prisoners and police men came together to renovate it and turn it into a museum. Talk about reconciliation.
 
We thought we'd start the bike tour off easy and ride from Dublin through the Wicklow Mountains. Ha. Ha ha. Ha ha ha...... Let's just say I worked harder the last two days than I usually do in two weeks. Less than fifty kilometers a day, but climbs that would hurt without 65 lbs of weight on my bike.

At 4pm yesterday, we decided it was too wet to camp and looked for a B&B in Moyne. We asked a passerby and he smiled. "Oh yeah, we've got one here. Just follow that road alllllll the way to the end. Then turn left and keep left or you'll miss it. So... it's up the hill and down the hill, then up the hill, down the hill...up, down, up, and it's on your right." I shoved a digestive in my mouth to keep from crying and off we rode to a cozy bed and lights out at 9pm. Amen. We are about to head to Carlow then Kilkenny where we will probably give ourselves a day of rest. Again I say, Amen.
We're thinking of you all at different moments. Be it during a session (Dad) or when I look at an uphill climb and say "Duh-duh-doooohh" (Becky) or when we get to the top of any hill, look at the view and realize just how lucky we are (all of you).

Missing you every day.

Love.
 
07/22/15
July 22nd, 2015, Thomas and I flew from New York to Dublin with our bikes, our cameras, and some underwear...the essentials.
We are taking a step away from the theater to focus on documentary filmmaking (Thomas) and photography and peace studies (Katie). While we wait to hear back about grants and fellowships for the spring, we are going on an epic adventure. We are biking around the perimeter of the country, creating our own work and booking projects where we can, sleeping under the stars (and sometimes the rain), and exploring the homeland as we go.
This blog will act as a massive letter from the homeland to the folks at home.

Love.